Performance notifications
Receive emails about application performance.
BugSnag allows you to receive an email containing a performance summary of the spans that are most important to you.
Performance summary email
Set up the Performance Summary email by selecting My email notifications from Settings, followed by selecting the project for which you want notifications, or My email notifications from your project settings. Then select Performance summary.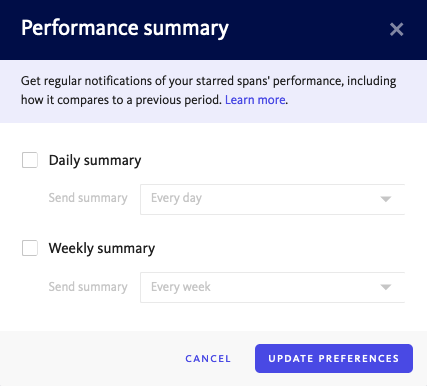 You can opt whether to receive the email daily or weekly (or both). The weekly email is sent every Monday.
The daily email is only available on Standard and Enterprise plans.
For each of your personal starred spans, the email will tell you the P90 duration of your primary release stage for the previous day or week, as well as for the day or week that preceded that.
If at least 1000 spans were received for both periods, and the current period is more than 10% slower than the previous period, we will put the span in a "Performance degradation" section at the top of the email. You can choose to only receive the email if there is something that has degraded performance, by this definition.
If less than 1000 spans were received for either period, the percentage change reported in the email will not be color-coded, as it may not be statistically significant.